Power User
Unplugged
Unplugged offers casual opportunities to get to know other Baruch students interested in New Media Arts at Baruch.
#ShelterInBaruch
We're all missing Baruch and spending time together in NYC. For our first Unplugged, we invite you to join us on Instagram for #ShelterInBaruch.
The New Media Artspace Docent Team has been hard at work creating filters and templates for Baruch students to keep us connected with social distancing! #ShelterInBaruch means taking refuge in your community.
We're rolling out 14 ways to symbolize 14 days of quarantine. Try them out and share your posts. Be sure to tag us! @newmediaartspace #ShelterInBaruch #NMAPowerUser #BaruchStudioArts
---
Skillshares
If you're curious about NMA or just want to brush up on techniques such as Photoshop or Adobe Premiere, try a peer-led Skillshare workshop. Skillshares are taught by the New Media Artspace docent team.
Past Skillshares
---
Challenges
Challenges test your creativity with new media in a campus-wide art-making competition.
Check back soon for more Challenges!
Past 360° Challenges
---
Cheat Codes
Docent on Demand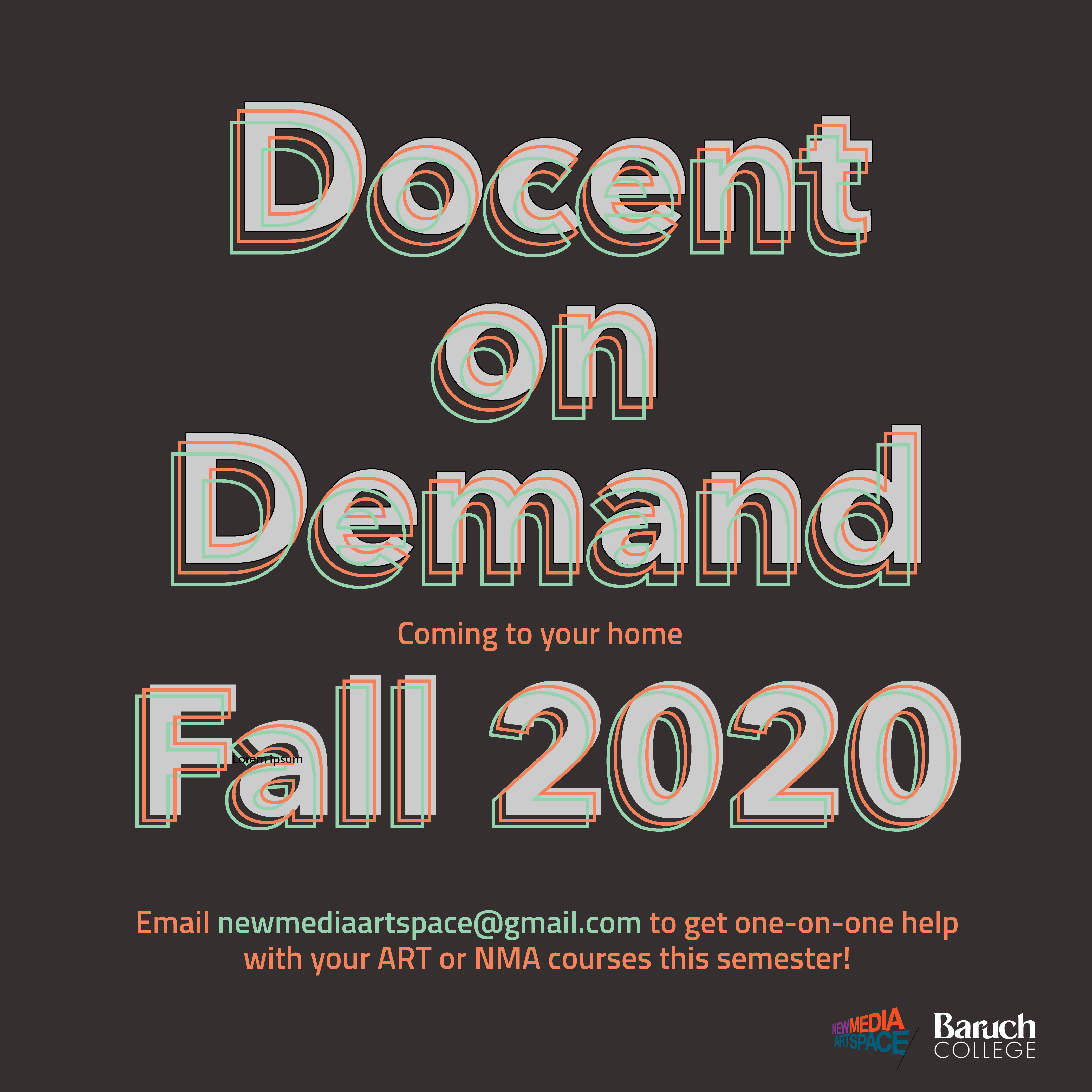 "Docent on Demand" is a helpline for Baruch students during distance learning.
Students can come to us for technical help, with assignment questions, or if they just need someone to brainstorm with on a class project. We can help you with Adobe Creative Suite, peer critiques, Slack, and more! To contact a docent, email us at newmediaartspace@gmail.com.
What's Power User?
Power User is a grassroots student-led platform for anyone interested in New Media Arts at Baruch. Organized by the New Media Artspace and our Docent Team, Power User connects NMA students, alumni, and aficionados. Unlike NMA courses, Power User is by students for students. We currently have 4 key activities: Unplugged, Skillshares, Challenges, and Cheat Codes. Email us at newmediaartspace@gmail.com to get involved. All are welcome!
Visit Us
Public Hours
Week of March 16th, 2020

M: CLOSED
T: CLOSED
W: CLOSED
Th: CLOSED
F: CLOSED
Sa: CLOSED
Su: CLOSED

Week of March 23rd, 2020

M: CLOSED
T: CLOSED
W: CLOSED
Th: CLOSED
F: CLOSED
Sa: CLOSED
Su: CLOSED

Location
151 E. 25th Street
New York, NY 10010
Located in the Newman Library
About Us
The New Media Artspace is a teaching exhibition space in the Department of Fine and Performing Arts at Baruch College, CUNY. Housed in the Newman Library, the New Media Artspace showcases curated experimental media and interdisciplinary artworks by international artists, students, alumni, and faculty.
The New Media Artspace is open to CUNY students, faculty and staff during regular library hours. Members of the public should bring a state i.d. and request access at the security desk at the second floor entrance to the library. During public hours, ask security to DIAL A DOCENT at x1664
Follow Us