---
The gallery is closed until further notice in response to the COVID-19 outbreak.
---
Current Exhibition
Defy the Domain
May 11 - September 4, 2020
The New Media Artspace at Baruch College presents Defy the Domain, a group exhibition led by the Spring 2020 Capstone class of the New Media Arts undergraduate minor. The exhibition is comprised of original works created and curated by New Media Arts students Bryan Campana, Afsara Chowdhury, Kaitlyn Chiu, Femi Fagbemi, Ruth Jean-Lubin, Jason Jiggetts, Mushan Khan, Lauren Lee, Wendy Lei, Qiao Ting Liu, Noran Omar, Joanne Pan, Adyan Rahman, Danica Raz, Maryam Saad, Priscilla Shum, and Qi Qi Wu.
Defy the Domain is a collective interpretation of the ever-evolving relationship between humans and technology. Originally created as a tool for humans, the exponential rate of technological adoption has resulted in the blurring of lines between creator and creation. Technology's ability to shape humanity is on par with the human capability of shaping technology. Breaking down the anthro-technological relationship reveals the intricate dependence both participants have for each other. The works are organized topically in three sections: "User," "Protocol," and "Networks." A fourth section of the exhibition, "Safe Mode," showcases a collaborative work jointly created to respond to the COVID-19 pandemic that emerged during the course of this semester.
The New Media Artspace will host a live premiere of the website from 1:30–3:00 PM, 11 May 2020 on YouTube. Members of the public are welcome to attend and may RSVP through the link here.
---
Happening Now
Docent on Demand
Summer 2020—Brought to you by Power User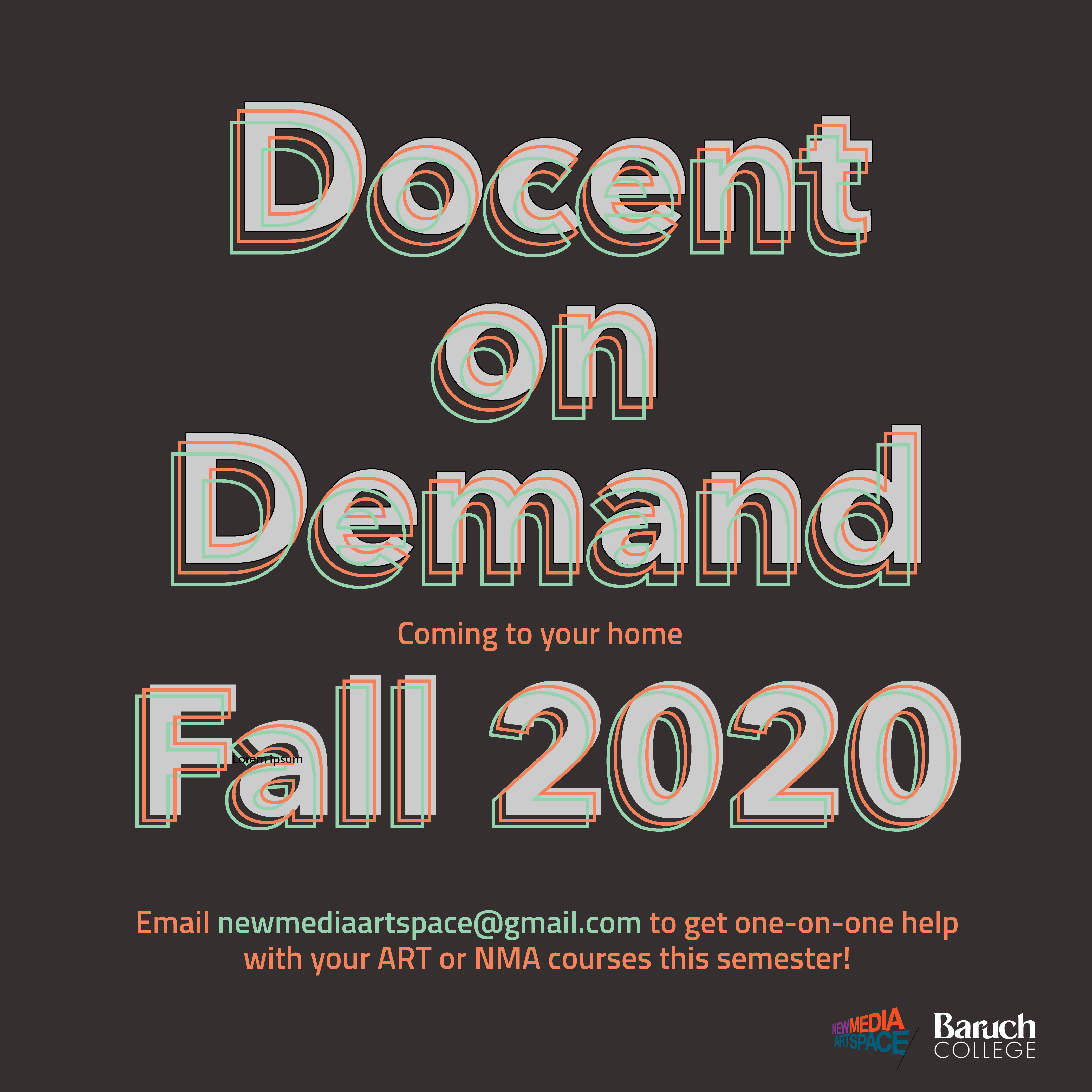 "Docent on Demand" is a helpline for Baruch students during distance learning.
Students can come to us for technical help, with assignment questions, or if they just need someone to brainstorm with on a class project. We can help you with Adobe Creative Suite, peer critiques, Slack, and more! To contact a docent, email us at newmediaartspace@gmail.com.
Docent on Demand is part of our Power User: Cheat Codes series. Cheat Codes provides Pro Tips for getting the most out of NMA classes.
#ShelterInBaruch
Now on IG—Brought to you by Power User
We're all missing Baruch and spending time together in NYC. For our first Unplugged, we invite you to join us on Instagram for #ShelterInBaruch. The New Media Artspace Docent Team has been hard at work creating filters and templates for Baruch students to keep us connected with social distancing! #ShelterInBaruch means taking refuge in your community. We're rolling out 14 ways to symbolize 14 days of quarantine.
#ShelterInBaruch is part of our Power User: Unplugged series. Unplugged offers casual opportunities to get to know other NMA students at Baruch.
Learn more
Visit Us
Public Hours
Week of March 16th, 2020

M: CLOSED
T: CLOSED
W: CLOSED
Th: CLOSED
F: CLOSED
Sa: CLOSED
Su: CLOSED

Week of March 23rd, 2020

M: CLOSED
T: CLOSED
W: CLOSED
Th: CLOSED
F: CLOSED
Sa: CLOSED
Su: CLOSED

Location
151 E. 25th Street
New York, NY 10010
Located in the Newman Library
About Us
The New Media Artspace is a teaching exhibition space in the Department of Fine and Performing Arts at Baruch College, CUNY. Housed in the Newman Library, the New Media Artspace showcases curated experimental media and interdisciplinary artworks by international artists, students, alumni, and faculty.
The New Media Artspace is open to CUNY students, faculty and staff during regular library hours. Members of the public should bring a state i.d. and request access at the security desk at the second floor entrance to the library. During public hours, ask security to DIAL A DOCENT at x1664
Follow Us