People
Meet the Team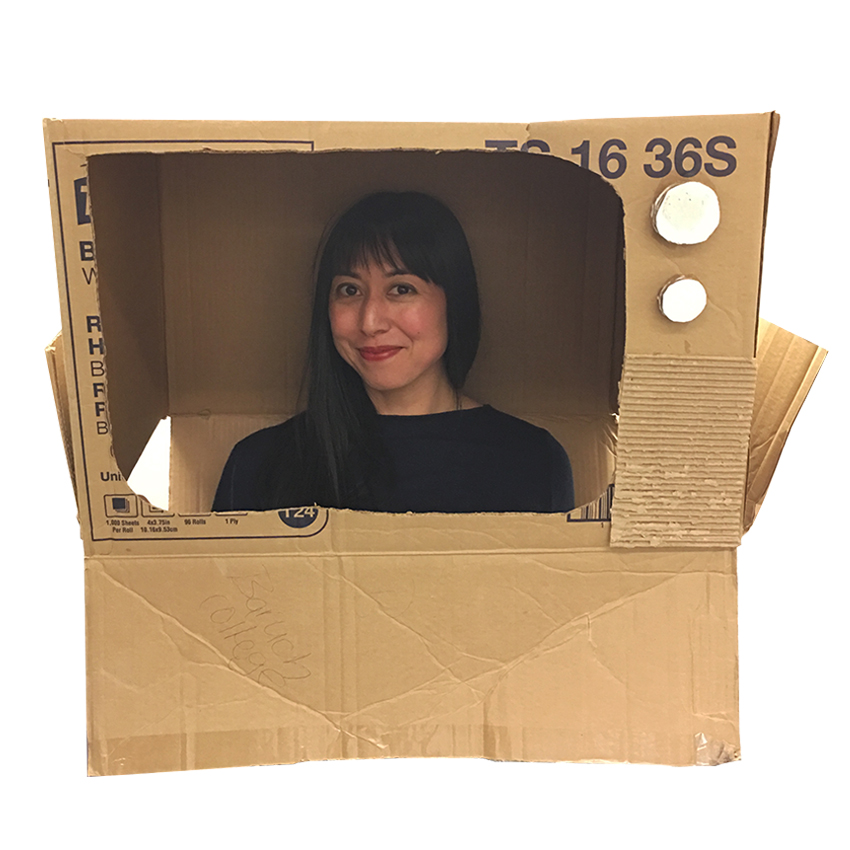 Hello! I'm Professor Behar. I'm the founding Director and Curator of the New Media Artspace and I run Baruch's New Media Arts Undergraduate Program. A favorite part of my role is collaborating with the Docent Team on every New Media Artspace exhibition, including student shows as well as shows by visiting artists. A course I love to teach is the NMA Capstone where I get to work with students to create their own exhibitions at the New Media Artspace. In my own creative work as an interdisciplinary artist and critical theorist of new media, I use feminism and materialism to explore digital culture. Currently, I'm working on interactive robotic installations, and I also work with sculpture, video, live performance, and more. You can see my art online at www.katherinebehar.com.
Hello! I'm Maya, the Gallery Manager at the New Media Artspace. I'm a Baruch CIS and NMA alum who has been with the docent team since 2018. I'm familiar with most of the tools you'll encounter in the NMA program and am happy to help out with anything web or graphics related! Outside the gallery, you'll find me dabbling in various arts and crafts (needlefelting at the moment), freelancing in web development and design, and doting on dogs.
Hi! My name is Anya. I'm a senior majoring in Graphic Communications and double minoring in New Media Arts and Sociology. I have always enjoyed taking photos and videos and making them into projects of my own since the first time I had access to a camera. Minoring in New Media Arts has allowed me to develop skills in mediums that I love such as photography and video and in software such as Adobe Photoshop, Audition, Animate, Premiere, After Effects, and Unity. My favorite NMA class I have taken is NMA 3022 - Art Games and Virtual Worlds. I learned how to create in a medium that I never thought about using before and differed from the mediums I am used to working in. I love learning about new media art in all its different styles and love fostering a creative community at Baruch.
Hi! My name is Anika Rios, and I am a junior majoring in Graphic Communications with a minor in New Media Arts. I have always had a love for drawing, painting, and everything creative. I was able to discover and advance my passion for many forms of digital art with the help of all the amazing classes I have taken at Baruch! I now enjoy working with Adobe Photoshop and InDesign in particular, which has been heavily utilized in my career journey. Becoming a docent helps me dive more into new media art and support a wonderful community at the same time!
Hi! I'm Angela, a New Media Arts alumni from the class of 2023. Currently, I'm pursuing my MA in Human-Computer Interaction to further expand my knowledge in my greatest interest: user interaction. I learned to code at a young age and have always had an interest in technology. Through the New Media Arts minor, I was able to use technology creatively and delve into the ethics of technology. As a Docent, I especially like to enhance the Gallery website and enjoy the amazing works of our artists. Outside of web development, my hobbies include traveling and watching films. Feel free to check out my portfolio here!
Hi everyone! I'm Jafrin, and I'm Baruch College Alumni of the class of 2023. I majored in Marketing Management, with a focus in Advertising Development, and minored in New Media Arts. I've decided to pursue this kind of career in hopes of tying in my love and interest for Graphic Design and Video Editing in the future within the beauty and fashion industry! Joining the New Media Arts space is my attempt to learn and experience all kinds of software usage and creative ideas through our other monitors and docents. I hope we can grow and learn together in the coming semesters!
Hello! My name is Cindy and I'm a senior majoring in Marketing Management with a minor in New Media Arts. Exploring the offerings of NMA has sparked my interest in learning more about Adobe programs and what they have to offer. As I've delved into these courses, I've found motivation to excel in projects while having fun. The NMA classes have kindled my interest in photography, and I aspire to make it one of my many hobbies. I am eager to integrate these skills into my academic and professional journey. I look forward to learning more about NMA!
Every semester we host a visiting artist. Stay tuned for our next artist, and in the meantime read about our past visiting artists here!
The New Media Artspace collaborated with Refract Magazine providing illustrations for articles.